Brass copper singing bowl
Brass Copper Singing Bowl
Dorhymi manufactures and supplies wholesale Brass Copper Singing Bowl in a wide range of colors, designs and sizes, capacities. The quality of the premium glass we offer is arsenic-free and lead-free. Also, these containers are customizable with surface processes such as frosted, smooth, and engraved that you may like. Our products include a full set of tools with crystal singing bowls matching custom backpacks, mallet so that you don't need to purchase from other places and also provide sturdy shipping packaging so that you don't have to worry about shipping anymore.
Do you wish to purchase a large order of Brass Copper Singing Bowl? At Dorhymi, we are sure to have your production requirements covered. If you are looking for something not listed and you can request a custom order, please contact us today. We would be happy to assist and work with you.
Your Brass Copper Singing Bowl Project
Brass singing bowls are made by pouring brass into a mold and then shaping it into a bowl. They are usually about six inches in diameter and two inches deep. The rim of the bowl is decorated with ornate designs.
We prioritize a streamlined process and flexible operations. We'll make sure to deliver your products at the appointed time and with the specified specifications.
Flexible financial Policy
We promise no pressure marketing campaign, our financial policy is customer-friendly, and we will work with you to establish your financial goals.
Guaranteed logistics packaging
All our logistics processes are thoroughly streamlined and adaptable. We will make a point to deliver at the time and venue as agreed upon. Our packaging has been repeatedly tested for high space utilization and safety
Learn More Your Brass Copper Singing Bowl
Our brass singing bowls are made from high-quality materials and produce a beautiful sound that is perfect for relaxation, meditation, or simply enjoying the ambiance of your space.
Boilerplate:
At Dorhymi, we pride ourselves on offering high-quality products that improve your quality of life. Our new brass singing bowls are no exception!
Quality of the Brass Copper Singing Bowl
Specification
Material
Application
Packaging
Contact
Specification
| | |
| --- | --- |
| Attributes | Introduction |
| Material | Copper, Brass |
| Color | Brass yellow |
| Surface | Smooth, engraved |
| Function | recreation, yoga, therapy,sound healing,sleep stress relief, relaxation, decoration, Chakra Balancing |
| Size | 5.25-8.75 inch customized |
| Service life | long time |
| Healing class | insomnia, pain relief, and anxiety |
| Hertz range | 432 HZ – 440 HZ |
| Packaging and shipping | securely foam box,carton box.air and ship |
| Tones | C D E F G A B C |
Material
Application
Packaging
Contact
How Do We Make Brass Singing Bowl
In any organization or company, there are some procedures that members need to follow when producing or manufacturing an item. We have flow charted all of the processes our handpan follows before being completed.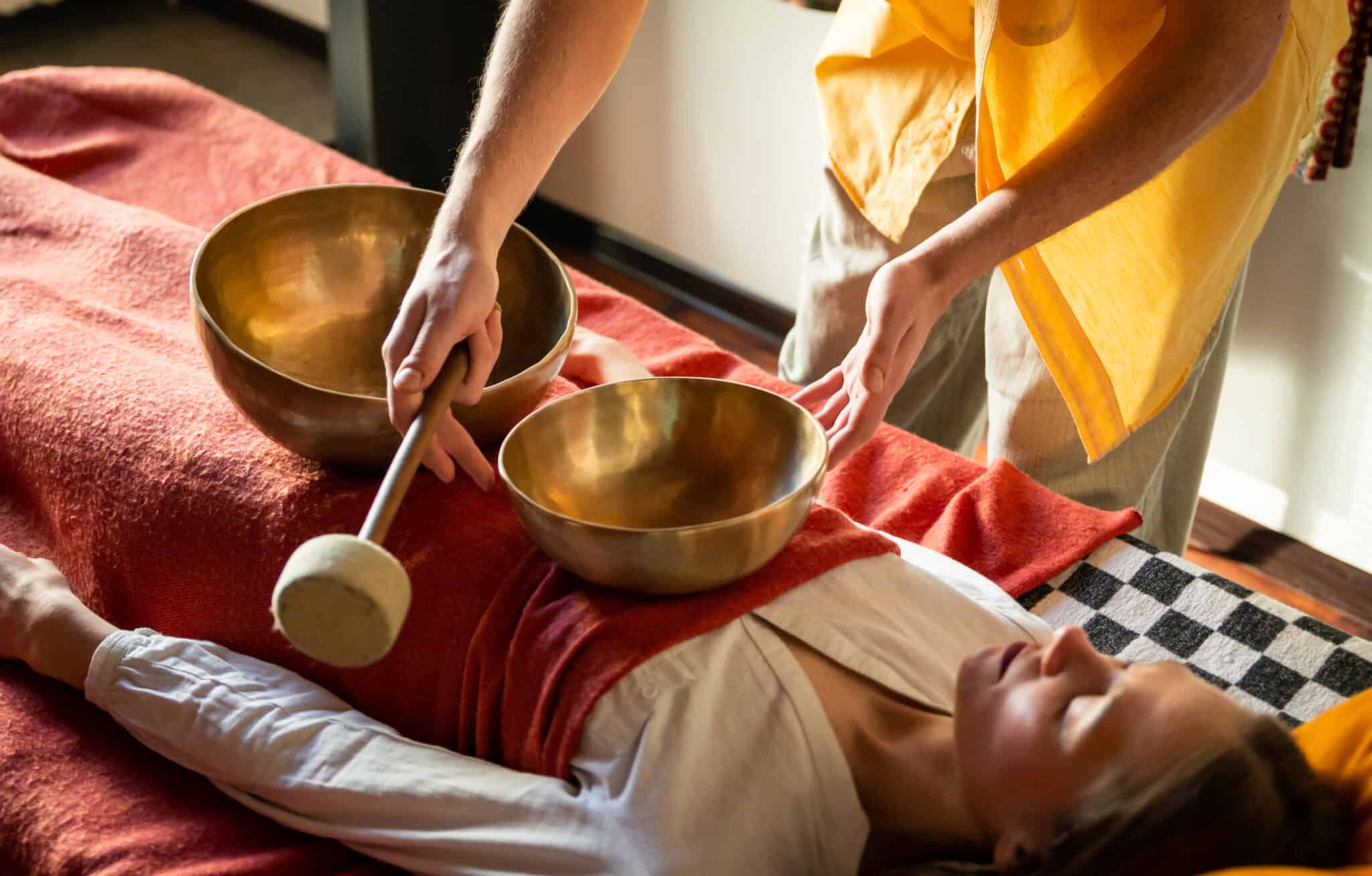 1. The first step in brass singing bowl production is the creation of the mold. This is done by creating a clay model of the desired bowl shape.
2. Once the clay model is complete, it is used to create a plaster mold.
3. The plaster mold is then used to create a wax mold.
4. The wax mold is then used to create the final brass singing bowl.
5. To create the brass singing bowl, a sheet of brass is cut and formed into the desired shape.
6. The brass sheet is then placed in the wax mold and heated until it liquefies.
7. The molten brass is poured into the wax mold and allowed to cool and solidify.
8.
Contact Us For More Brass Singing Bowl Projects
Share your thoughts and customize your Singing Bowl with our specialist.
Brass Singing Bowl Industry Experts
Fired by hand-made,            Shaped by hand-made,            Annealing process
Each product is carefully inspected prior to shipment to ensure it meets our strict quality standards.
Our company offers the only brass singing bowls that are made with a patented process. This makes our bowls the highest quality and most durable on the market.
Estimated Wholesale Price
We're safeguarded in your financial resources, so you don't have to worry about releasing them to us. We have listed all of the expenses you'll need to cover when purchasing Singing Bowl  from us.
There are no fees for consultations for design features of any type of sing bowl.
You will make a deposit of some funds when creating the sample design. The minimal fee doesn't coerce you.
This is the cost to you for producing your product on the basis of the market price.
This is the cost to pay to ship your final products from our warehouse to your doorstep. We offer a simple process to deliver your products with the greatest of care.
When the amount is less than $5000, 100% advance payment, when the amount is higher than $5000. Allows you to either pay in full or pay 30% of the full payment for the entire product manufacturing.
Once you have settled upon your total repayment, the transportation of your merchandise to your home or office is initiated.
Chakra sound bath meditation
The word Chakra is Sanskrit and means "wheel" or "circle." It refers to the seven major energy centers in the human body. These centers are located along the spine, running from the base of the spine to the top of the head. The chakras are thought to influence different aspects of our being, including our physical and emotional health, as well as our intuition and spiritual growth. Crystals have been used for centuries to heal and balance energies within people's bodies and their environment. They can be used for a variety of purposes such as healing, meditation, channeling energy into a specific area or chakra, or simply just for decoration. When using crystals to heal or balance a person's chakras it is important that they be placed in direct contact with the chakra.
Do You Want Customize sing bowl and handpan? Contact Us Now
Very simple, Dorhymi takes the worry out of production shipping steps
Contact and place an order
Contact a salesperson and tell your full needs
Visual production and timely feedback
We understand that our customers pay attention to every detail of production, so we make them feel at ease
Safe packaging, fast shipping
Less than 0.1% cargo damage and 100% compensation. We focus on safe shipping more than you do
Frequently asked questions
There are 7 metals that are used in the making of singing bowls. They are: gold, silver, copper, iron, tin, lead, and mercury. Each metal has its own unique sound and vibration that contributes to the overall sound of the bowl. The combination of metals used in a particular bowl can influence its tone and vibrational frequency.
There is no definitive answer to this question as both crystal and metal singing bowls have their own unique benefits. Metal singing bowls are generally thought to be louder and have a more penetrating sound than crystal singing bowls. They are also considered to be better at creating a sustained vibration, making them ideal for use in meditation or prayer. Crystal singing bowls, on the other hand, are often considered to have a more gentle sound that is said to be able to help with relaxation and stress relief. They can also be used to help clear energy blockages and promote healing. Ultimately, it is up to the individual to decide which type of bowl is best for them.
There are many things to consider when choosing a singing bowl. The most important factor is the size of the bowl. The second consideration is the weight of the bowl. Heavier bowls produce a deeper sound than lighter bowls. The third consideration is the type of metal used to make the bowl. The four most common metals used to make singing bowls are brass, bronze, copper, and silver. The fourth consideration is the age of the bowl. Newer bowls tend to produce brighter sounds than older bowls. Finally, consider your budget when choosing a singing bowl.
Leave message and get the answer
You will receive an email with the suffix @dorhymi.com. Our sales team and technical team will answer you within a day